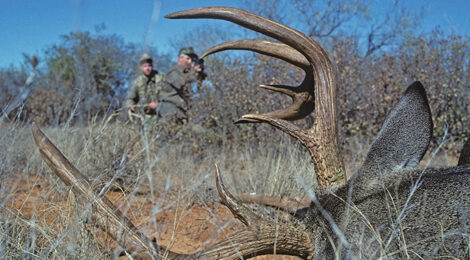 Circumventing bucks' unpredictability and see more old wraiths supporting substantial headgear.

Story and photography by Bob Zaiglin
Whether your objective is to replenish your cache of venison or take a trophy buck, right now is the time to be in the brush country. Although mornings can be a little chilly, December evenings are refreshingly cool. More importantly, mature buck activity escalates throughout the month. And nowhere is this more evident than in South Texas where some of the largest racked bucks in the state will relinquish hunters an opportunity to see them strut their stuff during the rut.
Regardless where one hunts in Texas during December, seeing deer is not a problem. The post-rut slump in East Texas as well as the Panhandle may result in a decline in mature buck sightings, but that doesn't mean that does will not be visiting food plots. Rutting activity will continue through early December in the Hill Country, but for those hunting in the brush country, mature bucks are about to ratchet up their movements and drop their guard in search of receptive doe.
So wherever you hunt, you can expect to see, in some cases, a lot of deer. But in a state with a deer population in excess of five million, that is to be expected. For some it may be a weekend trip to harvest a couple of doe, but for others, that mid-December excursion to South Texas is the culmination of well-laid out plans to enjoy deer hunting at its very best.
************************************************************************
To read more, click here to SUBSCRIBE