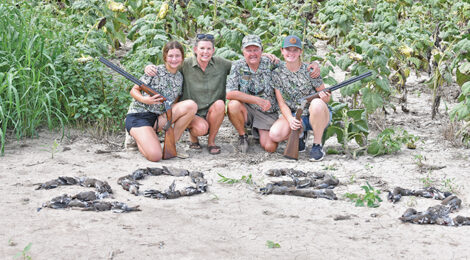 It's the most anticipated event of the year, particularly for those who enjoy wing shooting.
Story by Bob Zaiglin
It was the first weekend of the special white-wing dove season, and it was hot—with a temperature solidly nestled in the low 90 degree range.  I along with my family had just pulled into a 100 acre sunflower field in Zavala County to enjoy some white-wing dove action, but we arrived a little early.
As my granddaughters McKenzie and Madison remained ensconced under the shade of the pecan and hackberry trees along the periphery of the field, I ventured out into the sunflowers in an attempt to flush a few of the early arrivals, but only collected a couple before the heat coerced me to revise my strategy.
It was around 4:00 p.m. and the white-wings were simply not around, but mourning doves by the hundreds inundated the field as they dropped from the clear blue sky to enter the seed-rich environment the sunflowers provided.   It was as if the birds knew they were safe, as a number of scatter gunners were in the field, but even though a limit of two mourning doves was permitted during the early white-wing season, hunters passed them over awaiting the evening flight of their larger, slower-flying cousins, the white-wings.
Time seemed to move slowly as we endured the sun's rays, taking advantage of what little shade was available.  As the sun breached the taller trees bordering the field, white-wings began to appear in small numbers proceeded by flocks of 40 to 50 birds gliding in to take advantage of the highly desirable food source.
It was wing shooting at its finest and it was not long before we reached the 15 bird limit.  I was the last one in our group to limit out and took a considerable amount of verbal abuse from the youngsters.  However, little did they know that while they were staring down the muzzle of their shotguns, I enjoyed watching them punching holes in the sky in their attempt to drop the plump, tasty white-wings that we would grill over cherry-red mesquite coals later on in the week.
************************************************************************
To read more, click here to SUBSCRIBE