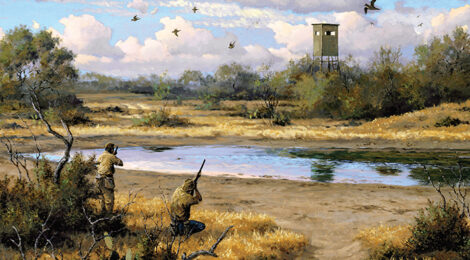 Talented wildlife and sporting artists for generations have painted scenes that stimulate the memories of similar times and places by those that view their art.  It has always amazed how an artist interpretation created on the easel can have so many relate to it.  Places depicted as well as the people may be different but it reminds us of similar experience we've enjoyed.
Even years after an artist has passed, the artwork that was created still encourages us to continue to go and do.  Such is the case of a popular late artist and old friend, David Drinkard whose work has appeared numerous times in the 32 year, monthly history of this magazine.
Drinkard's "Little Tank Shoot" is the perfect September image to remind of past dove hunts, plus stimulate our anticipation of those yet to occur.  Water sources have seen their share of fast shooting activity as flights of mourning and white-winged dove zip in for a refreshing drink or to gather gravel and other grit for their craw.  Following a hot, dry summer, stock tanks often provide some hot shooting.
Also noted is the deer blind in the background.  A subtle reminder that with hunting seasons underway, deer hunting is not far off.  Soon instead of begin beside the tank hunters will be overlooking it waiting for a whitetail buck or other game animal to come within range.
"Little Tank Shoot," other giclees and prints by David Drinkard are still available.  For more information visit www.daviddrinkardart.com, call (409) 767-6881 or email dbdrinkard@aol.com . — Bill L. Olson
************************************************************************
To read more, click here to SUBSCRIBE