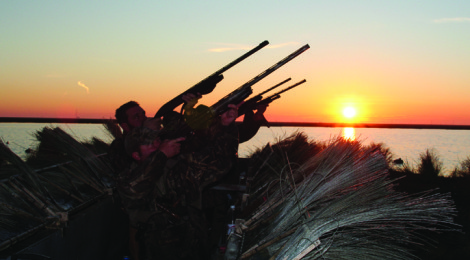 When it comes to duck blinds, there are types available for a variety of hunting situations.
Story and Photography by Robert Sloan
On a backwater slough off the Angelina River Tim Aarons and I had just set up our boat blind in a small opening. We had about two dozen decoys out. The water was dark, mosquitoes were buzzing in our ears and there was not a sound among the tall cypress, oaks and pines standing motionless on this calm morning.
Then it happened. We heard that unmistakable, deep throated quack, quack, quack of mallards circling low over the trees. I hit 'em with a couple of slow quacks, and that's all it took. A hen and a drake dropped down through the tree limbs, then about a dozen more came rocking in on cupped wings. It was as good as duck hunting gets. We put down five "greeners" less than 15 minutes into legal shooting time.
"Man they never knew we were here," said Aarons.
He was right. We were in the perfect place at the perfect time, with the perfect blind. We had come in early, well before daylight in the 16 foot jon boat pushed by a 25 horsepower Mercury. Once we located the right spot we tossed out the decoys, tied the boat off between two cypress trees and began setting up the blind. It was easy.
We pushed three PVC pipes in the mud on each side of the boat. After that we bolted on side rails. Next we draped sheets of camouflage 3-D leaf-like netting over and around the boat. To that we added some brown and tan blind grass, the type that unfolds and can be easily tied onto the PVC pipes.
To complete the blind we pulled grass mats between us to cover our movement in the boat. It was a killer set up; one that had the mallards falling into the decoys with bright orange webs reaching for the surface of the water.
There's a ton of gear and know how that goes into to putting together a successful duck hunt. Most of the time it's location, location, location. But even if you have blue chip real estate if you're not in some sort of a blind it's all for naught. That's why a blind is so important.
Last season I spent a lot of time on the middle Texas coast with Jeff Larson, a guide and good friend out of Port O'Connor, home to thousands of ducks each season. Most are redheads, but many more are pintails, widgeon, gadwalls and scaup. The one thing that has put Larson on the map as one of the best guides in this area is that he runs an airboat to pit blinds that are so well camouflaged other hunters can't even see them.