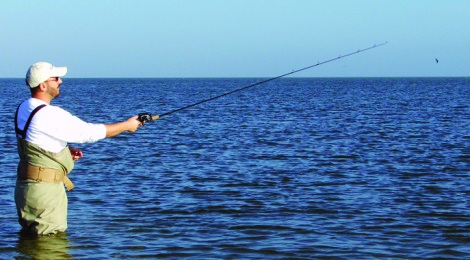 Weather and all other things considered, the holiday season offers some outstanding fishing on the Lower Laguna Madre.
Story and Photography By Danno Wise
Weather in Deep South Texas during December isn't so much unpredictable as it is schzophrenic. Anglers accustomed to fishing on the Lower Laguna Madre during the Holiday Season know they can expect air temperatures ranging from the 80s to the 30s and everything in between. While just about everyone can catch fish on moderate weather days, being consistently successful during December means being willing and able to adjust when the weather reaches the extremes — hot or cold.
WINTER ELIMINATES MOST OF THE BAY
Regardless of the prevailing weather conditions, during the winter months, fish in the Lower Laguna Madre will usually be found in a few general areas, as they rarely venture far from their winter homes once they transition there for the season. Generally, during the winter months, fish like mucky bottom with deep water nearby. The muddy bay floor retains heat better than sand, so the water temperature is always a tad bit warmer in those areas.
Deep water is more stable, temperature-wise, than shallow water and fish seek refuge there when the temperatures plunge. So, sections of the bay with a combination of muddy bottom flats and deep water access will be holding fish regardless of the weather. It is simply a matter of adjusting to the precise points and depths and techniques for each type of winter weather to be consistently successful during the winter months.