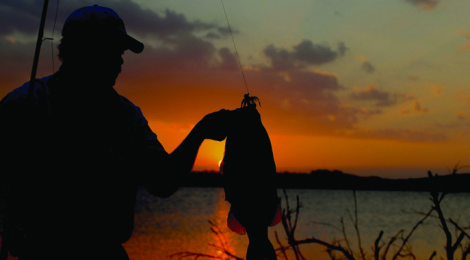 Lake Fork guide Mark Stevenson and former Lake Falcon guide Charlie Haralson share their secrets and knowledge.
Story and Photography by Matt Williams
Anybody can get lucky and catch one big bass in their lifetime, but to reel in heavyweight fish weighing upwards of eight pounds with any consistency calls for some serious attention to detail. I know a number of big bass junkies, and all of them are just as choosy about where they soak their baits as they are the type of approach they take from one sweet spot to the next.
Equally important is lure choice. Big bass are opportunistic feeders that are prone to gobble up just about any type of forage that presents itself when the dinner bell rings. On Texas lakes that might be a crawfish, threadfin shad, gizzard shad, bluegill, tilapia, bar fish or maybe even a plump crappie or catfish that swims dangerously close.
At times, big bass have even been known to turn cannibalistic and chomp down on one of their own. Perhaps nobody knows that better than Longview bass pro Jim Tutt.
Tutt lives along the shores of Lake Cherokee in northeastern Rusk County. The 3,400-acre private lake supports a healthy population of fat largemouths and good number of Kentucky spotted bass.
Tutt was fishing a crankbait around a boat dock last October when he hooked a spotted bass. The fish looked to weigh about a pound when it jumped close to the dock. Midway through the fight Tutt felt additional pressure at the end of his line. Moments later, he found out why when a much bigger fish he estimated to weigh 7-8 pounds cleared the surface with the smaller spotted bass, and his crankbait, fully engulfed in its gaping mouth.