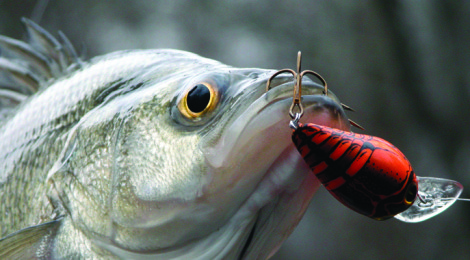 The spring spawning run is just around the corner on rivers across East Texas.
Story and Photography by Matt Williams
There is a good chance things will be pretty quiet out there for those who choose to bring in the New Year bobbing around on a lazy East Texas river system. But big changes are coming.
Give it another few weeks and rivers that feed large impoundments like Toledo Bend, Sam Rayburn, Livingston, Tawakoni, Cedar Creek and a host of others will come alive with flatbottom rigs, kayaks and pirogues as fun-loving fishermen stem from the woodwork in hopes of getting in on the opening act of what is truly one of nature's greatest shows.
The show in question is the annual white bass spawning run. It's an annual phenomenon that is played out on watery stages all over the state, but is most pronounced on headwaters of reservoirs where Morone chrysops is found in large numbers.
Driven by the biological urge to procreate, white bass, thousands of them, migrate for miles upstream from big bodies of water every year to keep the wheels of life turning. It's a carefully laid plan Mother Nature carries out one year after the next to ensure the survival of the species.
Us fishermen benefit from annual spawning run because it creates yet another generation of the hard-fighting sport fish for us catch. Better yet, it's a timely cure for a bad dose of cabin fever that might be ailing those who haven't take the time or had the opportunity to wet a hook since last summer or fall.
When it comes to fun fishing, there isn't a freshwater venue around that rings the party bell any louder than the annual white bass spawning run does. I say that based on experience, not assumption. Ask anyone who has played the game and they will back me up, too.