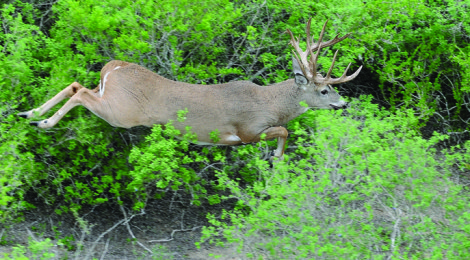 Just seeing one of these trophies would be a blessing, but here are eight bruisers to consider.
Story and Photography by Bob Zaiglin
It's only a matter of time before those trophy-racked bucks begin to appear. It's the rut in South Texas and the place to be when it comes to an unparalleled hunting experience. It's common knowledge that the thorn scrub is ground zero when it comes to the development of the largest racked bucks in the state. But a variety of uncontrollable factors can have an effect on whether those outstanding bucks ever develop, and if they do whether they will ever been seen by a hunter.
Deer hunters are cognizant of the impact drought has on antler size, survival, and visibility, but we are presently out of the drought and have been since the spring, but deer still had to endure an extremely hot and dry summer before fall rains developed. Of paramount concern to the avid deer hunter at present is just how much did that summer dry spell affect antler size? Well, after spending hours in a helicopter surveying deer populations across much of the brush country throughout the fall, I had the opportunity to see some outstanding deer, and would like to share some of the bucks I was privileged to view to verify just how good I think this hunting season should be.
I have aerially surveyed 15 ranches encompassing 41,202 acres. While doing so, I have observed 3,296 deer composed of 1,157 bucks, 1,307 doe, and 832 fawns at one deer per 12.5 acres. A total of 773.78 miles of transects were flown with 4.3 deer per mile of transect observed in 2015 compared to 4.2 deer per mile in 2014. Based on antler size, I observed 49 bucks that gross scored 160 inches or more in 2015 compared to 40 in 2014. The fawn survival in 2015 was 64% vs. 72% in 2014.