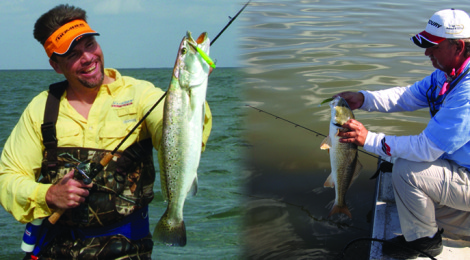 Anglers need to know how to take advantage of a variety of fishing opportunities, regardless of the weather conditions.
By Danno Wise
Fall is in the air. There's really no doubt about it. Even way down on the Texas/Mexico border the air takes on a different smell, a different feeling as fall descends. The weeks between Halloween and Thanksgiving can be magical for anglers in Deep South Texas.
For most fishermen, it means it's time to chase brutish tarpon and spectacular snook, as well as speckled trout, redfish, flounder, mangrove snapper and barracuda. With fall's cooler temperatures, every species of inshore fish in the Lower Laguna Madre is friskier. The mild temperatures and active fish make every day on the water special.
However, because there are far too many of these late fall days, fishermen need to know how to take advantage of each and every one of them, regardless of the weather conditions.
FRONTAL EFFECT
After Halloween, fronts begin to be more common and occur on a more regular basis. The passage of these frontal systems is about the only thing that disrupts fall's normally consistent weather. But, even though the wind and weather change before, during and immediately after a front, that doesn't mean fishermen aren't able to be successful. In fact, it is still possible to catch fish throughout the phases of a frontal system passage.