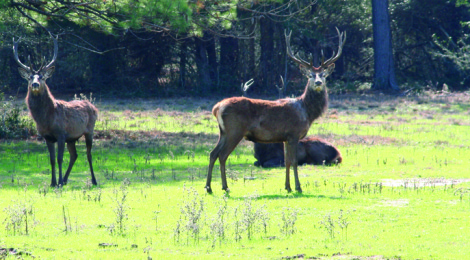 A growing population of non-native animals provide challenging hunts but also compete with native wildlife.
Story and photography by Robert Sloan
Back in the 1970's I used to hunt on a lease near Rock Springs on the west side of Texas' Hill Country. The ranch covered just over 3,000 acres, was low fenced and loaded with deer and exotic game. We paid $225 per gun, and shot more crazy looking animals than you can imagine. It was nothing to go out and see black buck antelope, sika deer, aoudad and axis deer. It was a dream come true for a bunch of city slickers from southwest Houston.
That, I believe, was when deer hunters began to see lots of exotic animals in the Hill Country and West Texas. It was also the time when more than a few landowners were barely scratching out enough money from raising sheep, goats and cows to pay property taxes. However, when exotics began escaping from high fenced hunting operations landowners began to see money on the hoof. For example, the ranch we hunted on for years at $225, jumped to $800 per gun, then up to $2,500 in no time flat. Once the word spread that you could hunt deer and exotics on the same lease the cost of shooting them sky rocketed.
Nowadays there are high-fenced ranches from one side of Texas to the other and they are raising anything from zebras to high-scoring white-tailed deer. Many escape and run wild on nearby low fenced ranches.