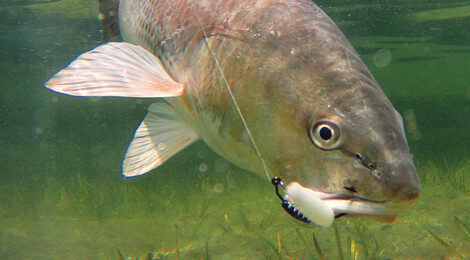 Anglers pursuing redfish in May can expect to experience fall-like action on the flats.
Story and photography by Danno Wise
Spring fishing on the coast is most often associated with chasing speckled trout. However, by late spring, redfish are already extremely active on the flats. In fact, late spring temperatures are perfect, but not yet stifling hot, to encourage these more weather tolerant fish to be very active on flats. As a result, anglers pursuing redfish during May can expect to experience some fall-like action for spot tails on the flats.
However, spring remains a transition time as overnight temperatures can still be fairly cool. So, early mornings may find the fish still hanging along edges of deeper water if it was cool overnight. But, even following chilly spring nights, by the time the sun is up good, they will definitely be dispersing over flats. Because the water temperature during May tends to hold in that happy medium – not too hot, not too cold – anglers are able to pursue fish in a variety of ways, in several locations and with a various approaches.
Sight-casting for redfish is one of the most exhilarating inshore experiences for both fly fishermen and light tackle anglers. While spring is often windy, there are also a number of calm days during May. When this occurs, the combination of clear water, calm conditions and plenty of active fish on the flats equates to excellent sight-casting. Those hoping to sight cast can wade, drift or pole while scanning the flats for targets.
Sight-casting usually involves using smaller, soft landing lures and flies. Late spring sees Texas bays brimming with newly hatched finfish and crustaceans, so these smaller lures and flies also perfectly "match the hatch." Another perk to sight-cast fishing in May is that since fish are quite a bit more active during May, they will swim a greater distance to attack a lure or fly so anglers don't have to be quite as accurate as is necessary when fish are being more finicky.
************************************************************************
To read more, click here to SUBSCRIBE