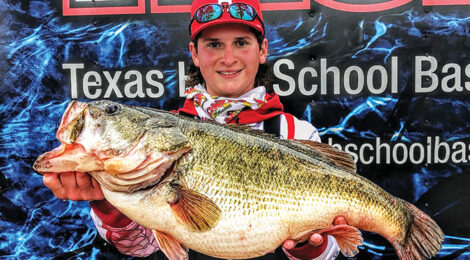 A fairy tale run on whopper bass spurs a boatload of new records.
Story and photography by Matt Williams
Texas is steeped in big bass fishing history. Anyone close to the sport is sure to agree that what we saw back in February was a particularly epic stretch in Lone Star lunker lore.
Between February 19-28, there were eight Toyota Legacy Sharelunkers reeled in from three different lakes, including six from lake O.H. Ivie and one apiece from lakes Travis and Conroe. Among the small army of giants were bass weighing 16.40, 15.40, 15.32, 14.4, 14.25, 14.2, 13.40 and 13.20 pounds.
Legacy lunkers are 13 pound-plus female bass caught between January 1 and March 31. The fat fish are paired with hand-picked males for spawning in hatchery raceways and the Texas Freshwater Fisheries Center in Athens.
The phenomenal February run on ShareLunkers marked the fastest start on big bass collection for Texas Parks and Wildlife's spawning and genetics research program in years and tripled the 2020 total of four entries.
The best year on record in the program's 35 year history was 1994-95. That legendary run came at the height of big bass nirvana at Lake Fork. The 27,000 acre fishery near Quitman produced 23 of the 36 entries turned in that year.
It's worth noting that more than a half dozen bass fishing records were broken during the remarkable February stretch. While all of the busted records involved bass with serious weight problems, not all of them were Legacy lunkers.
Here are the highlights from the record-crushing run on giant Texas bass:
High School Weight Record
On February 27, 16 year old Pake South of Winnsboro landed a 12.80 pounder at Lake Bob Sandlin. The fish fell just short of cracking the 13 pound Legacy ShareLunker threshold, yet it still earned the young angler a pair of record titles.
************************************************************************
To read more, click here to SUBSCRIBE