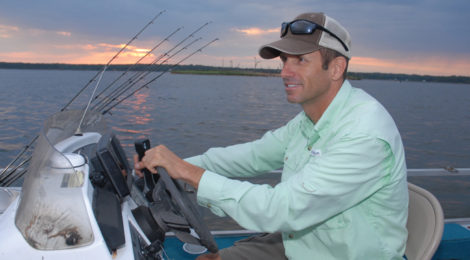 Lake Fork fishing guide puts clients of loads of fun and fillets.
Story and Photography by Matt Williams
When it comes to fun fishing, it just doesn't get any better than this. I'm at Lake Fork and there is not a bass boat, flippin' stick or frog rod in sight. Instead, I'm kicked back in an easy chair at the bow of Gary Paris' 24-foot pontoon rig with a smelly tub of punch bait by my side.
The big boat is anchored along the edge of an underwater drop off smack the middle of the lake and the bottom is swarming with channel catfish. I know that because I'm catching one on every single drop.
I wouldn't be lying if I said the bites are coming like clockwork, because they are. No sooner does the poignant glob of homemade punch bait reach bottom than my rod tip begins to rattle like a jackhammer.
Paris, a veteran guide of 20 years on Fork, doesn't seem surprised by fast action. He was expecting it.
"I told you," Paris chuckled with an impish grin. "I found this spot drift fishing and it has pretty much been automatic every time I've been here since. There must be thousands of them down there. Every time I fish, it's great."
The spot has been so reliable that even rookie fishermen have run up the score there more than once. Groups of three to four anglers – some of them under 10 years old – have routinely boxed their limits in short order.
The fish aren't dinks, either. Last July I caught a 25-fish limit in less than 90 minutes and only had only two throwbacks that didn't make the statewide 12-inch minimum length limit. The majority of the cats ranged 13-17 inches, but the spot has been good for numerous fish in the three to four pound range on several trips since.
That's well above average in size compared to the channel cat you'll catch on a lot lakes. On many reservoirs anglers have to sort through a lot of 8-10 inch channel catfish fish to collect a respectable "mess" for the freezer, but that is rarely the case on Lake Fork.