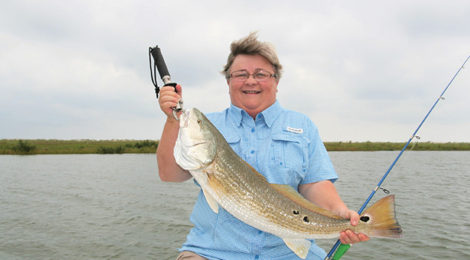 Clear tides, miles of shorelines and plentiful numbers of redfish await fall anglers.
Story and Photography by Robert Sloan
Port O'Connor has what seems to be an endless supply of redfish, that's mainly because there is an infinite supply of places to find and catch them. There are miles upon miles of island shoreline that attract reds. There are lakes, lagoons, reefs, a pass and the jetties. You can fish deep or shallow. You can fish with live bait, topwater lures and jigs and there is always the option of fly fishing.
Guide Dodd Coffee says the fishing at the jetties is one his go-to tactics just about any time of year.
"The Port O'Connor jetties are not your normal set of rocks. They are wide open and offer both deep water and shallow fishing options. I spend a lot of time fishing the jetties with live baits like shrimp and croaker. Growing up and fishing Port O'Connor with my dad, we ran all over the place and rarely fished the jetties. We had a Lone Star boat and a 25 horsepower Sea King outboard. Back then we fished the flats, backwater lakes and reefs. That's mostly shallow water fishing, and we would load up with reds. It was just about all wade fishing and our number one lure was a gold spoon."
Incredibly, that fishing is still good today, even with substantially increased numbers of anglers tapping into the action. Drift fishing for reds at places like Pringle Lake and Contee Lake is excellent. Most of that is fishing with lures, or live bait under popping corks.
There is no doubt that wade fishing rules at POC. It's a way to catch a lot of reds in just inches of gin clear water. It's all good.
The one thing that makes fishing so much fun at POC is the clear tides. Port O'Connor is located on the middle Texas coast. That's where the clear water flats begin on the Texas coast and continue all the way down to the lower Laguna Madre.
Another unique thing about POC are the many spoil islands in the bays, and of course there is Matagorda Peninsula and Island that stretches for many miles. Matagorda, Spanish for "thick brush."