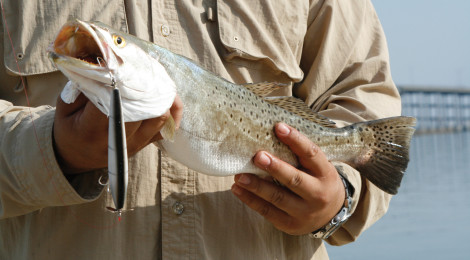 This is the much anticipated time of year for anglers to see some sizzling action for coastal gamefish on top.
Story and photography by Danno Wise
October is always a magical month for inshore anglers everywhere. The Texas coast is no exception. Cooler weather and water, smaller crowds and plenty of active inshore gamefish combine to offer Lone Star State bay fishermen a near perfect angling experience during the tenth month.  As a result, despite the other demands for time during the weeks preceding Halloween (school, sports, work, hunting, etc), most inshore anglers find a way to spend at least some time on the water in October.
While on the water this month, fishermen will often find speckled trout and redfish readily inhaling a variety of natural and artificial baits. Of course, one of the most exciting and enjoyable methods for taking specks and reds during the fall – or any other time of year, for that matter – is to employ surface plugs. Because of the cooler temperatures and increased activity, fish are much more likely to pounce on topwater plugs during October than just about any other time. In fact, October is one of the rare occasions when fishermen can expect to catch both quantity and quality on surface plugs.