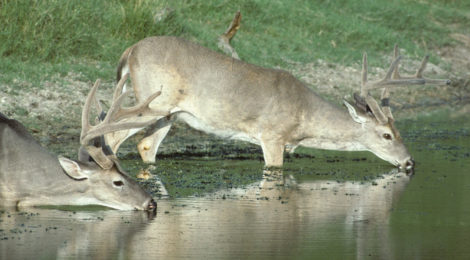 Without it, we wouldn't have any wildlife to manage, hunt or enjoy.
Story and Photography by Bob Zaiglin
There is something especially unique about water, particularly when it comes in the form of rainfall. Just the sound of it hitting the rooftops is therapeutic, and nothing like rain brings a sparkle in a landowner's eyes or initiates more discussion at the local coffee shop.
To the serious deer advocate, it's a precious commodity that can make or break a hunting season as they realize how critical this nurturing liquid is to the development of those calcium appendages they hold in such high esteem. Water unquestionably is an integral part of wildlife management that dictates for the most part how large those racks or coveys will be in the fall.
Then again, rain in South Texas is actually a gift we never expect. When it occurs it results in jubilant celebration by those dependent on it — not only for its collateral benefits but for the fact that life as we know it depends upon it.
The amount of rainfall and particularly when it occurs, dictates just how successful we are at managing wildlife. But it's never guaranteed, thus we must employ every scientifically supported strategy to make it available to the animals and birds we manage, which can be accomplished in a variety of ways.