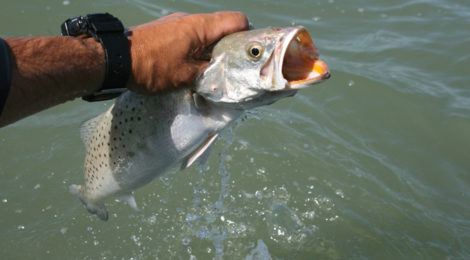 Summer through fall is the time to enjoy all this resilient area has to offer.
Story and Photography by Danno Wise
Padding of paws across the deck — not exactly the sounds you would expect to hear while scanning a tranquil flat for redfish. However, if you fish with Rockport guide Capt Scott McCune, you'd better expect it, because he takes his retrievers, Trigger and Kona, wherever he goes. McCune is an interesting and unique individual. Not just because of his habit of taking his canines on charters. This former rodeo cowboy has a degree in computer technology, yet chose bull riding and fishing as his career. He is seemingly a stream of contradictions, much like the area he fishes – the Texas Coastal Bend. This fabled region, a mashup of interesting characters and places, has been close to the collective heart of Texas fishermen for more than 100 years. However, nearly a year ago, the endless procession of anglers heading to the region came to an abrupt stop thanks to Hurricane Harvey. However, much the same as the people who make the place, like McCune, whose ranch and homestead was devastated by the storm, the Coastal Bend Region is on the rise and once again welcoming anglers.
HOW HARVEY AFFECTED THE AREA
Hurricane Harvey destroyed buildings, homes and businesses throughout the Coastal Bend. The area was completely devastated. Furthermore, recovery efforts were slowed by the massive amount of help needed in the Houston area following the storm. Another contributing factor to delayed response of materials and manpower was the fact Hurricane Irma hit the Florida coast three weeks after Harvey. Then came the devastation in Puerto Rico. This trio of horrific hurricanes thoroughly taxed all available resources.
READ MORE: continue article»