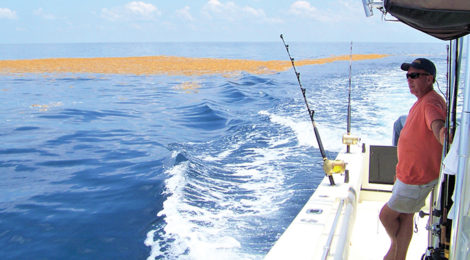 Gulf currents have warmed and all the pelagic players are available.

Story and Photography by Robert Sloan
June is without a doubt the month to kick off the prime-time offshore fishing season along the Texas coast. Gulf currents have warmed and all the pelagic players are available.
The lineup of offshore fish includes ling (cobia), king mackerel, red snapper, dorado, grouper, amberjack, wahoo, blackfin tuna, yellowfin tuna, sailfish and even blue marlin. That's an all-star roundup of rod bending gamefish that will provide offshore action for the entire summer.
Two of the most sought-after fish in the Gulf include ling and king mackerel. They can be caught around the rigs, over wrecks and behind shrimp boats. The state record ling weighed 108.44 pounds and was caught on May 9, 1998. The heaviest king mackerel in the Texas record books weighed 79 pounds. It was caught on a ribbonfish on Aug. 20, 2006. What makes these two fish so much fun to tangle with is that they are easy to find and catch. Ling are more structure oriented. Kings are pretty much the same but they will definitely follow big schools of pogies. Ling and kings are typically caught around near shore rigs and wrecks in 20 to 40 feet of water.
Some of the best fishing times for kings is from June through September and lots of them can be found offshore of Sabine and Galveston. That's where huge schools of pogies will be located from one to five miles off the jetties.
Speaking of jetties lots of kings are caught by anglers trolling diving lures and ribbonfish. A one ounce silver spoon trailing a ribbonfish is a deadly combo for taking lots of kings. Or you might try free-lining or bump trolling ribbonfish. The thing about king mackerel is when they take a bait they will just about set a reel's drag on fire.
You can even catch these speedy torpedos on topwater plugs. Some of the best fun I've ever had was fishing Super Spooks for kings one to two miles off the Port Mansfield jetties. At times kings will literally blast out of the water like a missile when they hit a topwater lure.