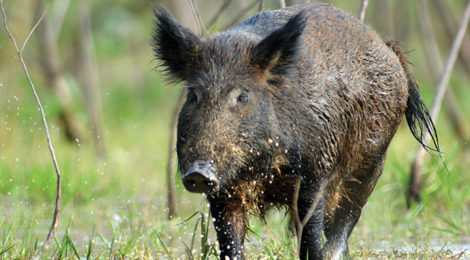 Which agency is on point to slow the growth of wild swine in Texas?
Story by Bill L. Olson
Photography by Boxie Kallina

There are plenty of challenges for Texans when it comes to the ongoing battle to slow the population growth of wild hogs. Hunters and trappers on private lands that make up about 97 percent of the Lone Star Sate have waged this effort for the most part. In some instance the private ownership of lands has both aided and hindered the control efforts. This is because a number of landowners are reluctant to allow outside hunters to come on their property out of fear of potential liability should a hunter get hurt.
Landowner sentiment about wild hogs also differs. Some curse the foreign swine while others embrace them as a game animal available to hunt year round. There are owners that don't believe the damage done by feral hogs is enough to want to see their numbers significantly reduced.
In recent years, particularly along the drainages of the Brazos, Colorado and several other rivers have experienced severe flooding that has displaced hogs from these riparian areas they use as natural travel corridors. Some Texas Parks & Wildlife biologists have been surprised that once flood waters receded the hogs did not return to their old habitat but instead took up permanent residence in areas they had been displaced too.
Derrick Banks with Texas A&M Extension service in Fort Bend County said he received a call about wild hogs in Memorial Park located near downtown Houston after Hurricane Harvey. It seems hogs displaced from heavy flooding in far west Houston traveled down Buffalo Bayou in their search of higher ground.
Banks and several other officials with various government agencies have acknowledged the effort to combat wild hogs has been a fragmented and underfunded endeavor. With available funds Banks holds several seminars each year to inform landowners and hunters of trapping techniques, how to utilize the meat from these porkers among other topics.
Some might thing Texas Parks & Wildlife would be the government agency to coordinate the fight against increasing numbers of wild hogs but that is not the case. Clayton Wolf director of the Wildlife Division said, "TPWD has stayed out of the hog issue since these animals are not native animals. The Department got involved when the various studies of toxicants came on the scene to help assure no none-targeted animals were impacted. Due to the destructive nature of wild hogs we have always told folks to shoot, trap or eliminate every one of these animals."