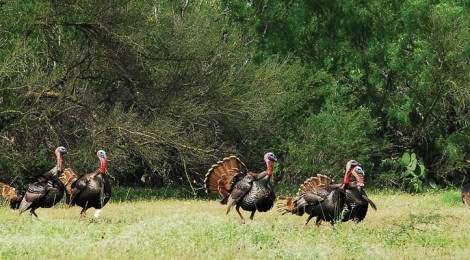 It's a family affair as three generations enjoy the challenges and rewards of calling in close boss birds.
Story and Photography by Bob Zaiglin
Accompanied by my daughter Beth and six-year-old granddaughter Madison, I slowly walked down a semi vegetated sendero in the dark, predawn hours towards the Nueces River bottom where I intended to locate a turkey or two roosting in the tall trees lining its bank. We hadn't walked very far when a whitish-faced barn owl bellowed out its ear-shattering, eerie, long drawn-out shriek, and the trees lining the sendero suddenly resonated with the loud, deep guttural double-gobbles of several longbeards. As I attempted to get closer to the birds, I peered around a leafed-out mesquite only to see several of the birds roosting in a defoliated, partially decayed mesquite tree silhouetted by starlight in the ink-black predawn hour. One more step, and the birds would have erupted from the tree tops to the safety of the ocean of thornscrub below. Immediately we backed off a short distance and got nestled into a clump of sage that would conceal our movements at first light when I would exercise my calling skills to lure one of those longbeards in up close for my girls to get a shot.
It was Easter weekend, and my family, particularly granddaughters McKenzie and Madison, were psyched up about a three-day vacation chasing tom turkeys, searching for shed antlers, and just kicking back. Arriving early on a breathtakingly beautiful, sunny Thursday evening, I was greeted by a female blackbuck antelope nursing her day-old baby amongst the beautiful white, sometimes pink, Texas nettles that littered both sides of the main ranch road. With an abundance of both winter and spring rainfall, the ranch had exploded with a variety of flowers in every color of the spectrum.