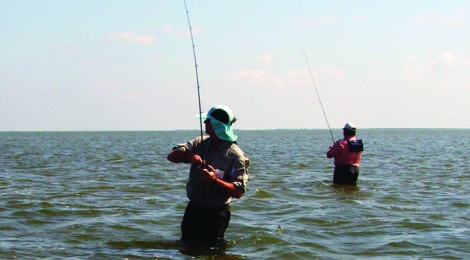 Be aware of factors that can affect when, where and how anglers should fish.
Story and Photography By Danno Wise
For most inshore anglers, spring means sow specks. However, the warming weather of April also ushers in outstanding redfish action. There is one caveat to spring redfish action — changing conditions due to spring winds, tides and constantly changing temperatures means that fishing for reds can change from day to day – or even several times within the same day during spring.
The constantly changing conditions is somewhat of a good news/bad news scenario. On the one hand, virtually every angler is assured of being able to fish for reds in the spring in their favorite manner whether that is sight casting, soaking bait on the bottom or anything in between. The downside is just the opposite of that, at some point during the spring season, pretty much every inshore angler will be presented with conditions that rules out their favorite way of fishing for reds.
Anglers can see this as a cup half full or a cup half empty. For the optimistic angler, they will embrace the opportunity to fish in a variety of ways over the next few weeks. The pessimistic fisherman, on the other hand, will bemoan the conditions which prevents them from employing their beloved techniques. But, by being adaptable, fishermen can find consistent success while fishing for redfish during spring.
Temperatures Rising
One thing that will impact every type of fishing over the next few weeks are the warming temperatures of spring. Because the water temperature is generally "comfortable" for the fish, they are feeding more actively. This allows fishermen to use more "power" fishing techniques, which allows them to fish faster and cover water at an increased clip.
When power fishing for reds, one lure comes to mind – the weedless spoon. Spoons can be used to cover water quickly and will draw fish from a great distance, especially with decent visibility and sunlight. When the water is too stained for using spoons, paddle-tail plastics, either fished straight-lined or under a popping cork, will produce good results.