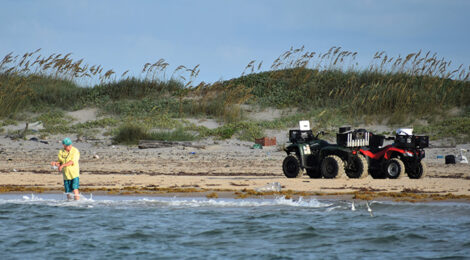 Conditions get right this month and the beachfront is where the hot action sizzles. 
Story and photography by Robert Sloan
You know things are beginning to jell along Texas coast when in the surf pods of mullet can be clearly seen in the first and second guts. Mix that up with shrimp popping on the surface and all indications point to conditions fixing to get right for hot summer time fishing.
One day during the first of June last year we got things to rolling in the surf when the wind calmed down for about three hours at daylight. I was fishing with three buddies and what was supposed to be a rough day of windy conditions dawned with a dead calm wind. It was an open window of opportunity and we quickly loaded the Shoalwater, gassed up, ice down the coolers and headed out of the Port O'Connor jetties.
The surf between those jetties and Pass Cavallo has a habit of being really good for a combination of trout and reds. Finding the fish is just a matter of easing along the third gut and using binoculars to look for bait and birds. The one sure thing about fishing the surf anywhere along the Texas coast is that when you see birds working the first and second guts off the beach you know that fish are somewhere in the area.
That's a pattern that can be good throughout the summer months. It's also a real good way to find trout from the jetties to the pass — an area that is a few miles of surf that's bait rich during the first runs of June.
When we arrived on a favorite spot the water was clean and green to the beach. The only problem was there was not a bird in sight. However, with a major feeding times coming up in about an hour we had all the confidence in the world. At about 10:30 that morning we spotted a bunch of pelicans working the east side of the pass just off Matagorda Island.
************************************************************************
To read more, click here to SUBSCRIBE