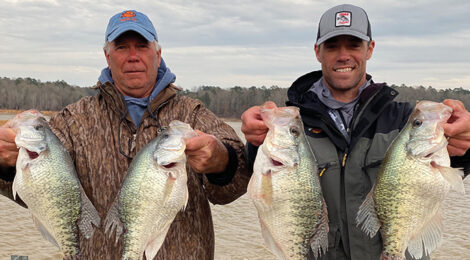 Mega-weights showcase two of the nation's top papermouth fisheries.
Story and photography by Matt Williams
Grenada Lake in northern Mississippi is a pretty good hike from Texas. It could be well worth the trip for big fish buffs with a fancy for reeling in monster crappie.
A two pounder ain't squat there.
The results of the Crappie Masters tournament held recently at the 35,000 acre reservoir tell the story. Crappie Masters is an Illinois based team tournament trail that pays out big bucks to winners of their catch and release events on state and national levels.
The final tallies of the two-day national qualifier held March 11-12, 2022 at Grenada read more like three day bass derby. All-time weight records were set among the top finishers. Some true giants were brought to the scales, including multiple white crappie that cracked the four pound mark. More than 50 teams turned in fish upwards of three pounds as their big fish.
The full field consisted of 170 two-man teams. Teams were allowed to weigh in seven fish each day — 14 fish total.
Matthew and Bruce Rogers of Eldorado Springs, Missouri, won the tournament's top prize of $10,000 with a two day total of 44.71 pounds — an average of 3.19 pound per fish.
The enormous total topped the previous all-time Crappie Masters weight record of 42.84 pounds that was set in March 2021 by Zeke Anderson and Dillon Hackler, also on Grenada Lake.
Second place and $7,000 went to Brett and Robert Luther of Dickson, Tennessee, with 42 pounds. The father/son team also banked $5,000 for catching the heaviest crappie of the tournament, a 4.26 pounder. It's the biggest fish ever weighed in a Crappie Masters event.
What is truly remarkable about all of this is how far down the line the fairy tale weights went. To wit:
************************************************************************
To read more, click here to SUBSCRIBE