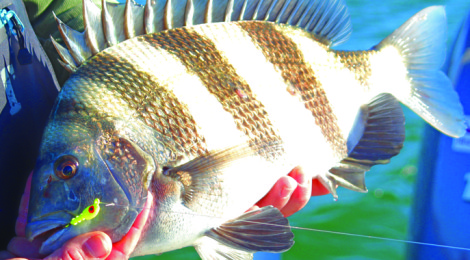 Proven techniques for catching winter and spawning bay snapper.
Story and Photography by Robert Sloan
I was fishing on West Matagorda Bay with Bill Panto and Chris Glynn, and we had just about boxed a limit of trout while using live shrimp under popping corks. I was netting a trout for Bill when Chris reeled up a fish he had never seen – a sheepshead.
"What the heck is that," he asked. "I don't think we catch these in Austin. Man, that fish is huge."
It was big, one of heaviest sheepshead I'd ever seen. I slipped the net under the worn out catch and got ready for a photo op, when Chris asked what the state record was. I wasn't sure but it was definitely worth checking into. Come to find out it was not a state record, but his sheepshead was definitely a new water body record for West Matagorda Bay at 6.94 pounds. Chris, who rarely gets a chance to fish, was thrilled. When he got the state record certificate he had it framed and planned on putting it on the living room wall. But that was quickly nixed by the wife. It was more like man cave material.
To put things into perspective the Texas state record sheepshead weighed 15.25 pounds. It was caught in Oct. 2002 by Wayne Gilstrap. That's a big fish, but small in comparison to the IGFA world record caught in April 1982, out of Southwest Louisiana that weighed 21 pounds, 4 ounces.
A sheepshead is not the prettiest fish in the ocean. And when hooked they won't jump or burn line off your reel. But one thing is for sure – they will put up a good battle. And one other thing, they are appropriately named – they have a set of teeth much like a sheep. Word of warning – never stick your fingers in the mouth of a fresh caught sheepshead.
Sheepshead have black and white bars which is why they are also called convict fish. And because of their teeth, they are well known as bay snapper. They are built tough with thick hides, large sharp spines and a sharp edge on their gill covers that will cut you like a razor blade so handle with care. They can be a challenge to clean, but have firm white flesh and taste great fried or grilled.