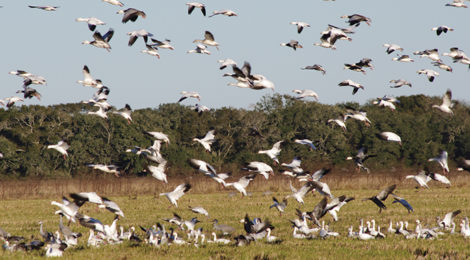 Choose from a variety of options and play the weather for late season ducks and geese.

Story and photography by Robert Sloan
One thing is certain about late season waterfowling – you have got to play the weather to outsmart wary ducks and geese.
There is nothing finer than to have a hard cold front moving in as you set up a spread of decoys in an area that's holding good numbers of birds. Case in point was a hunt I made three years ago in a rice field south of Winnie. A friend of mine had called and said he had access to a field that was loaded with snow geese. We had a front blowing through the next morning and I didn't hesitate on the invitation to make a combo goose and duck hunt on that bird-rich piece of real estate. The three a.m. wake up alarm was not too nice, but the anticipation of a chance to rack up some good numbers of gun-shy snows was worth the effort.
At five a.m. we were slogging across a rice field in a parade of four wheelers. We set up a mix of both duck and goose decoys. We had floaters in the water and staked out full bodied snow and speckle belly goose decoys on the levees. We didn't have a blind, however we had a couple of shovels to dig holes to hang our legs in. We got the spread set up and started digging shallow holes. The idea was to sit on a levee and put our legs in the holes. It makes for a low profile when you lean over.
Everything was coming together nicely as shooting time was reached. We had a hard north wind moving the decoys around, and if we could get the birds coming our way they would be on the deck for easy shots.
Before the geese left their roost pond we had plenty of shots at pintails and teal. They were coming in low against the blustery wind. Then we heard the geese. It was game on. A group of about a dozen birds were on the deck and coming our way. With just a little bit of calling we turned the birds and as they began juking in on cupped wings we put all but three of them on the ground. That was the beginning of a very fine hunt.