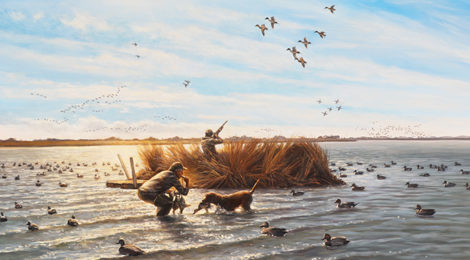 The second split of the South Zone's 54 county regular ducks season got underway back on Dec. 14 and will continue through January 26. The South Zone includes all of Texas coastal marsh.
The "book" says by January available forage on the rice prairies and other inland locations is beginning to run low. That means with colder weather descending on the Lone Star State, more and more ducks will make their way to the coast and points further south.
Popular Texas wildlife, sporting, and Native American artist Calvin Carter's has captured a humorous take in a 24" x 36" commissioned painting entitled "It Never Fails." These hunters figure they are in the right place and at the right time as evident by the hunter and retriever picking up downed birds. However, before everyone can once again get hidden in the blind a flight of pintails descends on their set. Such is hunting and all one can do is chuckle and acknowledge the ducks won this one.
For more information on "It Never Fails," or other fine works of art and commissions by Calvin Carter, visit www.calvincarterart.com, email mcalvincarter@yahoo.com or call (409) 201-6685. — Bill L. Olson.