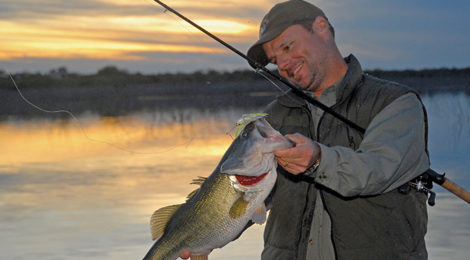 A random look at a few of Texas' most storied bass fisheries along with what you can expect.
Story and photography by Matt Williams
It's no secret that Texas is a massive state blessed with some of the very best bass fishing lakes on the planet. When it comes to quality and quantity, you'll be hard pressed to find another place this side of Mexico that compares.
There's never a bad time to bass fish in Texas, but year-in and year-out some of the very best opportunity always rolls around from late winter through spring as egg-laden females begin gravitating towards the shallows to spawn.
What follows is random look at a few of Texas' most storied bass fisheries along with descriptions of what you can expect to find if you decide to make the visit in 2020:
Sam Rayburn
Like the Energizer bunny, "Big Sam" just keeps going and going. The 114,500 acre reservoir was impounded in 1965, yet it continues to produce results way better than many lakes despite staggering amounts of fishing pressure from organized tournaments and recreational anglers. Bassmaster Magazine ranked it as the nation's No. 1 bass fishery in 2017 and 2018; third in 2019.
Experts believe 'Rayburn's fountain-of-youth can be attributed to a number factors. At the top of the list is primo habitat comprised of abundant aquatic and terrestrial vegetation that provides young bass plenty of cover to escape predation. The high survival rate promotes consistently good year classes of bass, which results in high numbers of fish available for anglers to catch. Aquatic vegetation also provides good habitat for adult bass, positions them in more predictable places for anglers to target, which typically results in higher angler catch rates.
Other key factors include abundant forage, regular Florida bass stockings and conservative angler attitudes geared towards catch-and-release.