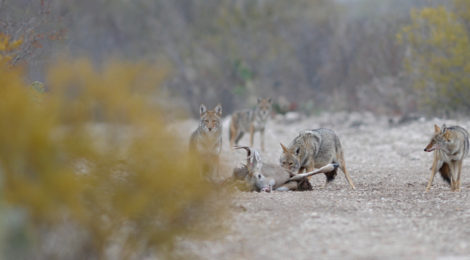 Improving some of the conditions a buck must contend with increases its chance to survive.
Story and Photography by Bob Zaiglin
As the sun disappeared below the horizon, a brilliant pastel-orange glow radiated upward, silhouetting the taller mesquites hovering over the dark ocean of brush. With a rapid drop in temperature, a buck supporting a regal set of antlers, accented by a drop tine off each beam, began to negotiate its way through the maze of brush in an attempt to insulate itself from the cold, dank late winter temperatures, which failed to impact the animal back in December, but now as a result of several injuries inflicted by its own kind, the buck's temperament was considerably different and nothing was more important than locating shelter.
It was late February, and the physical ramifications of enduring this particular buck's sixth, physically grueling rut was starting to impact the old deer's behavior. Only weeks before, sundown triggered a substantial increase in activity as the prime male intensively searched for a doe in estrous, but this was no longer the case. Although a few fawns would mature and enter their first estrous cycle, the rut was over, and so was the pronounced movement of those testosterone-bolstered bucks that were coerced out from their haunts to intensively compete for a position in the breeding hierarchy.