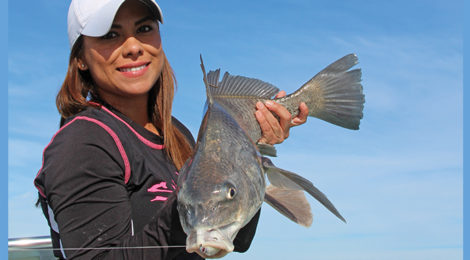 It's Texas coastal version of roulette, whether you plan on playing red or black.
Story and Photography by Danno Wise
For generations the red drum, or redfish, has been the undisputed King of inshore fish species along the Texas gulf coast. So popular is the redfish, its declining numbers in the 1970s led directly to the formation of what has become the largest saltwater conservation association in the United States – The Gulf Coast Conservation Association, now known as Coastal Conservation Association.
For most of that time, the redfish's closest cousin, the black drum, was overlooked at best and treated as a nuisance at worst. Recent years, however, have seen the black drum's fortune turn and they have begun to explode in popularity.
As a result, today both black and red drum are both highly sought after species along the Texas Gulf Coast. In some ways, the two fish behave similarly. However, despite their close relation, they have patterns and behaviors unique to each species as well.
Late spring is an outstanding time to target both gamefish. While each of these fish can be found in a variety of habitats, including the surf, beachfront, jetties, and passes, this article will focus on the bays, marshes and back lakes.
Red Drum
At various times of year, redfish can be found in just about every type of terrain found in a typical Texas bay bottom – grass flats, sand flats, mud flats, shorelines, shallow water, deep water, etc. By May, spring has typically had sufficient opportunity to get the water temperatures steadily climbing upwards. As a result, redfish will be found most often over grass flats, sand flats, along the shorelines and in the back lakes and marshes. In fact, May's water temperature is often "just right" – warm enough to allow fish to move out of deeper water and cool enough that they will stay shallow throughout the day.