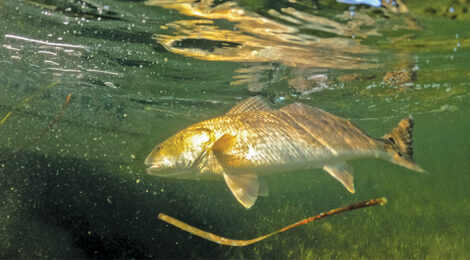 Regardless of the flats fished, odds are some memorable days will be experienced on Texas coastal waters.
Story and photography by Danno Wise
For months we've been seeing social media 'influencers' who "could not wait for fall" posting pumpkins, pumpkin-spice lattes and Halloween decorations. At the same time, inshore anglers all along the Texas coast have been actually awaiting autumn as well, albeit in a much more subdued fashion. Alas, it is finally here and with it some of the most exciting flats fishing of the year in the Lone Star State. With all due respect to Christmas, for light-tackle saltwater fishermen, October is usually the "most wonderful time of the year."
Once fall sets in, and the air and water temperatures cool, fish are thick on the flats. Additionally, they begin acting much more aggressive than they did during summer and the winds are generally still light. As a result, anglers can do well on artificials, natural baits or flies. In fact, it is one of those rare times of year when anglers can choose pretty much however they want to fish and expect good results.
The official state saltwater fish of Texas – red drum, aka redfish – are definitely the headliners during autumn. However, October actually offers up quite a bit of variety. It is a very good month to catch both top end trout as well as numbers of solid specks.
Flounder will also be getting more active as they prepare for their annual fall run.  Plusthis is the last chance to catch and keep flatties before the six week closure that begins November 1.
Anglers working the flats during fall can also expect to encounter some sheepshead and black drum.  Both of these species offer an outstanding fight and good fillets.
Although fish can be caught in almost any manner during October, the first full month of fall is best known for offering outstanding topwater action. Tossing topwaters is one of the most exciting ways to catch speckled trout and redfish at any time of the year, but fall offers the best opportunity for steady surface action.
************************************************************************
To read more, click here to SUBSCRIBE