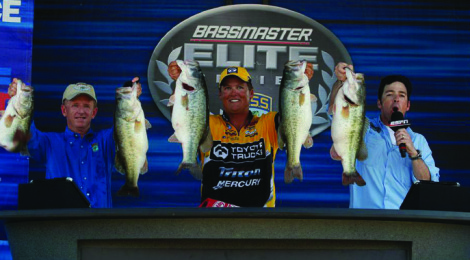 A review of some bass fishing's biggest limits ever.
Story by Matt Williams
George Herr of Many, La., has logged some memorable days bass fishing on Toledo Bend Reservoir in eastern Texas, but none to compare to the magical outing he experienced there last fall. I call it magical, because that's exactly what it was.
Fishing alone in a Many Bass Club tournament, Herr, 59, hauled in what is arguably the heaviest five-fish limit of bass ever caught single-handedly in the same day by anyone since the 181,000-acre impoundment was built 47 years ago.
The whopper sack included a small army of toads. The heaviest was just shy of 11 pounds at 10.97. The lightest was 5.81 pounder. Sandwiched between were three more fat bass weighing 9.15, 8.13 and 6.39.
Total weight: 40.45 pounds.
Remarkably, it took Herr all of 50 minutes to accumulate the enormous sack.
"Once I found them, it was on," Herr said. "The big fish was the first one that bit. After that I never moved the boat more than 50 yards."
Naturally, Herr didn't want to pinpoint his sweet spot for fear of the consequences. But he did say he was fishing on the Texas side of the lake in a major creek in relation to hydrilla beds in about 14 feet of water.
"They weren't in the thick stuff," he said. "I was fishing out away from the mats, where the grass was growing about 2-3 feet off the bottom."
The angler said he fooled all of the fish casting a homemade jig with a bream colored skirt and a matching soft plastic trailer. He started out throwing a 3/4 ounce bait, but switched to a 3/8 ounce after he saw the 10.97 pounder grab his lure on the fall.