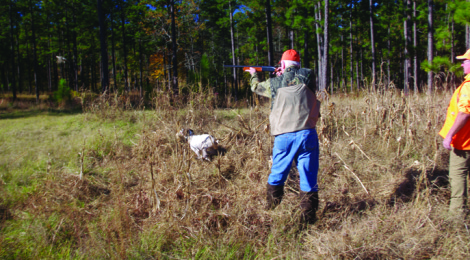 A place to impress and decompress while hunting, fishing, and being pampered in true hospitable Southern style.
Story and Photography by Bill L. Olson
My introduction to quail hunting in Mississippi occurred some 23 years earlier as an aspiring outdoor writer. A group of outdoor scribes, plus photo and video journalist flew to Hattiesburg Mississippi to a highly regarded destination called Longleaf Plantation. This was the first stop of three for a quail hunting story that was later titled "Flight to Bobwhites."
A Beechcraft King Air twin engine turbo-prop had been chartered. To say this initiation into covering the outdoor world had me in "high cotton" was certainly an understatement.
My first impression of the then 2,000 acre world-class hunting resort located just 15 miles south of Hattiesburg set a standard that all other destinations have since been compared. I had longed for the opportunity to return and that trip finally occurred in mid-November of 2014.
My best friend from my college days at Baylor, Buck Payne would ride shotgun on this return trip to experience quail hunting heritage and its roots at the ol' South plantation. Payne, a retired marketing manager for Eli Lillie Pharmaceuticals had seen his share of top destinations and we both had lots of field experience hunting upland birds. The question that seemed to persist was, "would the return trip live up to the memories of the past?"
Reece Holford, Longleaf's long time General Manager helped schedule our quick trip and asked if we would once again fly into the area. I chuckled and said, "yes" but this time the flight would be via "Olson Air," my new 2015 Ford F-250 Super Duty. I explained this was the latest in a lifetime of owing Ford vehicles, and I had a reputation of "flying" just a fraction of an inch above the payments wherever I went.