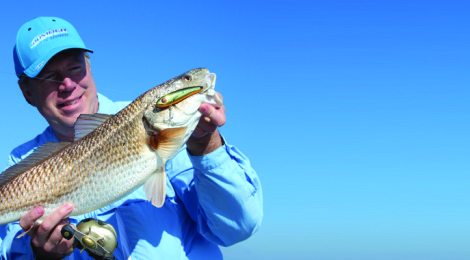 Two coastal mainstay species that are readily available, keep anglers lines tight and tasty fresh fish on the table all year round.
Story and Photography by Robert Sloan
It's a fact that redfish and black drum are plentiful along the Texas coast, and without these two tasty and hard fighting gamefish a whole lot of anglers would not be having fresh fish for dinner. Redfish have been a mainstay for Texas anglers for decades. But catching and keeping black drum has not been so prevalent. Just to make sure we're on the same page I'm talking about reds and black drum in the two to 10 pound class.
The thinking is that reds are fun to catch, will hit just about any lure dropped in front of them and taste great when fried, grilled, broiled or blackened. On the flip side is a black drum. This fish doesn't normally hit lures. Nine out of 10 can usually be caught on shrimp (live or dead) or chunks of mullet or Spanish sardines. As far as taste goes a black drum is right up there with trout and reds. A black drum filet is firm white meat and can be cooked just like trout and reds.
The big difference between reds and black drum is that reds are a good looking fish. They have character and have been featured in many sporting art paintings.
Conversely, black drum are kind of odd looking, drab in color and don't have a whole lot to offer anglers fishing with lures or even live baits. Plus, I don't recall seeing an angler in an artist's painting stalking black drum. But it's certainly true that both can be caught year round, especially during the cold winter months.
The great thing about black drum is that you can keep five per day. Add that to about three redfish and a few trout and you've got a load of good eats.
A black drum is a chunky, high-backed fish with many barbells or whiskers under the lower jaw. Younger fish have four or five dark vertical bars on their sides.
Young black drum and reds, in the 1 to 5 pound class, feed on worms, small shrimp, crabs and fish.
Both reds and black drum can adapt to a wider range of habitats than any other important Texas food fish. Both are found in the clearest water on sand flats and in the muddiest waters of a flooding slough.