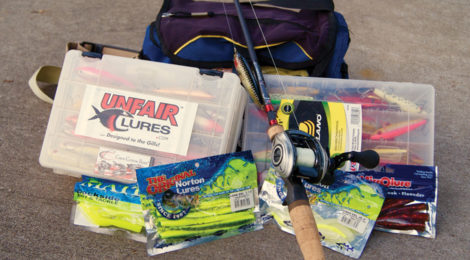 Mimic the preferred seasonal bait, matched to relative conditions and leave the rest up to the fish.
Story and Photography by Nate Skinner
"Do you think this will work?" I cannot even begin to count how many times I've heard my dad ask me this question while fishing together. Most of the time his inquiry coincides with a time period on the water in which the fish are absolutely turned on. I'll be in the middle of landing a fish and look over to see him digging through his tackle bag, searching for a bait he's never thrown before. This is typically indicated by the fact that the lure is still in its original package.
I can't blame the guy. Experimenting with different plugs is a hoot when the fish are aggressive. And trust me he's got plenty of lures to choose from that have never gotten wet. My dad is one of many anglers I know, including myself, who's hefty bag of tackle tricks is chock full of baits that have never felt the strike from a gamefish.
We've all been there. When a slew of plugs hits the check out line at a sporting goods store and the transaction is made, those lures have already caught what they were intended to catch. Finding hardware that looks fishy in its package according to human eyes isn't hard to do. And testing new baits can be quite simple when the action is hot.