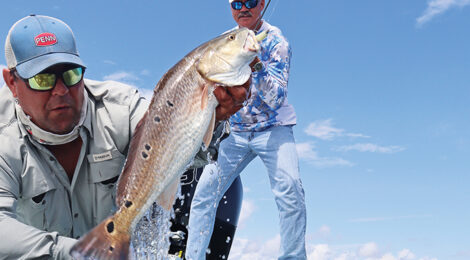 To consistently catch fish during the cold months, Texas coastal anglers must face all sorts of weather conditions.
Story and photography by Danno Wise
"Neither snow nor rain nor heat nor gloom of night"… The Postal Service may not necessarily adhere quite as strictly to that motto these days, but hardcore Texas inshore anglers know if they want to consistently catch fish during winter, they must face all sorts of weather conditions. Given that winter along the Texas coast can be a bizarre mix of atmospheric happenings, fishermen have to be prepared for virtually any weather condition. That means being willing and able to adjust their locations, lures and retrieves to maximize their advantage under the prevailing conditions. Often, these conditions can change within a given day. But, for those anglers who are prepared and flexible, winter can offer some of the best bay fishing action of the year.
Let's start with the conditions everyone looks forward to this time of year – those relatively warm, calm, sunny winter days. Most often, these conditions occur between fronts. Such situations can last several days depending on the timing of frontal passages. When it does happen, redfish and jumbo trout will be "sunning" on the flats.
Given that winter water is often super clear, these type of days actually offer some of the year's best sight-casting opportunities. Anglers can sight-fish from a slowly drifting boat, but when the conditions are super calm, wading or poling is usually a better option for covering water.
Conventional tackle anglers armed with spoons or small jigs can do very well, as can fly rodders with small baitfish, shrimp or crab patterns. Be advised, however, due to the clear water, fish on winter flats are often a bit more skittish, so accuracy and subtleness with the presentation are at a premium.
************************************************************************
To read more, click here to SUBSCRIBE