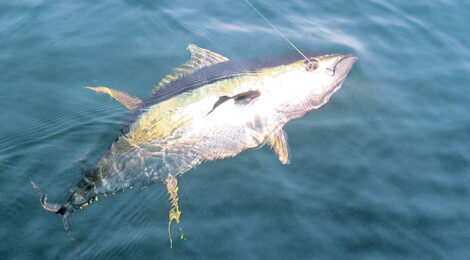 Long run offshore trips can deliver a variety of hard fighting fish.
Story and photography by Robert Sloan
Making the long run offshore, like from 50 to 100 miles out, has become increasingly popular with lots of fishermen in center console boats that seem to be getting bigger, longer and being pushed by more horsepower from their outboards.
It used to be we would make an offshore run with a single outboard motor. Then two outboards became the norm. And nowadays three to even four motors are strapped on the transom of center console boats. One of the most impressive boats I've been out on lately was a 42 foot Freeman powered with four 300 horsepower Yamaha's. It's a catamaran that can handle some pretty rough seas, and still maintain a fairly comfortable ride at 60 plus miles per hour.
There is no doubt that making a lengthy offshore run can wear a good fisherman down to nothing. That's especially true if you make an over-nighter that involves catching back breaking fish like yellowfin tuna and blue marlin. But when you get the glamor of offshore fishing in your blood the hardcore runs are not so bad. However, an aching body on Monday morning can be a little bit tough to deal with.
One of the most popular runs right now is to leave port and head over 100 miles offshore to fish the big floater rigs in upwards of 3,000 feet of water. That's where a good number of anglers have been hooking up with bluefin tuna, yellow fins and an unusual number of blue marlin so far this year. A lot of those fish are being caught on live blackfin tuna and hardtails. Some of those fish/angler battles have lasted upwards of seven hours, just to see the hook pull when they thought the fish was about worn out. One bluefin that didn't get away was caught by Daniel Miers aboard the "Rock Mama" out of Galveston. The fish weighed 820 pounds, and was caught on April 8.
************************************************************************
To read more, click here to SUBSCRIBE