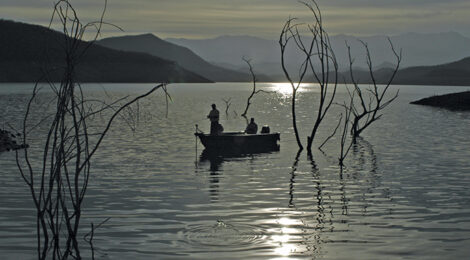 Fooling bass with a variety of surface lures provides an adrenalin rush that is addictive.
Story and photography by Matt Williams
Anyone who has spent much time around me knows I'm a bass junkie at heart and a topwater nut from way back. I like to catch bass any way they'll bite but I had rather fool them with a surface lure than any other way.
The eccentric melody of a topwater plug at work definitely toys with the mind, but it is the violent explosions that sometimes happen when a big bass eats one that keeps guys like me coming back for more. It's a squeaky-clean addiction that gripped my fishing soul in the late-1960s and never let go.
I was just a kid from Garland without a care in the world back then. I owned a cheap spincast outfit and a tiny tackle box used mostly for storing corks, split shot weights and small hooks that I tipped with earthworms, minnows and grasshoppers whenever they were in season.
I fished a lot as a child, mostly from the banks of stock tanks around Collin County. That's where my hang-up on topwater fishing got started.
Interestingly, it didn't begin with a cast. It began with a spent shotshell casing I tossed into an old farm pond as my dad pass shot doves coming to water along the caliche shoreline.
The ripples hadn't even settled on the surface when a head-hunting lunker came calling. Acting on a fit of rage, the fish smashed the bobbing shotshell so hard it sent a spray of white water sailing. My dad's treasured response was classic and straight to the point.
"Bass…. mean SOBs, ain't they," he chuckled.
Roughly 40 years have gone by since that sultry summer afternoon and I still get the insatiable itch to act on what I saw and heard that day.
************************************************************************
To read more, click here to SUBSCRIBE