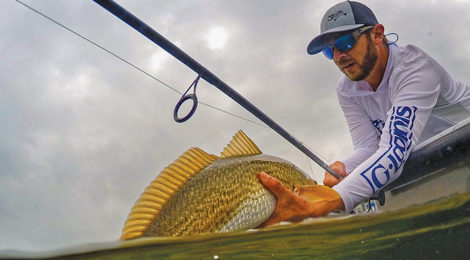 Try being the last boat left on the water to enjoy the uncrowded flats filled with aggressive summer redfish.
Story and photography by Danno Wise
It is no secret July along the Texas coast is hot – as in scorching. It is also a well known fact fishing during summer is better in the early morning and late evening hours. Or, is it? If it is indeed the "Golden Rule" as it has been presented, then redfish are royal rule breakers, as some of the absolute best summer spottail action takes place during the hottest portion of the day.
Though relatively few coastal anglers are aware of this midsummer phenomena – and even fewer willing to brave the midday sun – some incredible redfish action takes place in the bright, sunny, hot afternoon hours — well after most boats have made the run to the dock and nearest A/C in July and August.
Those who have not experienced it would be amazed that such as active fishery can exist in such stifling heat. But, almost like clockwork, an hour or so after the majority of fishermen have headed in, fish begin appearing seemingly everywhere on the flats. Add an afternoon moving tide to the mix and you have the recipe for astonishing success.
Capt. Steve "JR" Ellis of Getaway Lodge in Port Mansfield says there is a simple explanation for this behavior.
"What happens is those feed up shallow during the night," said Ellis. "So, early in the morning, there are still some fish on the flats, but they are beginning to move off toward deeper water. How long they stay up shallow in the morning really depends on the tide and the boat traffic. If the tide is dropping, they will move with it. If there are a lot of boats running over a flat, the fish will scatter into the deeper water even sooner. "Whatever the cause – tide, boat traffic – at some point during the morning, the fish will move off the flats. Then at some point they will return to feed again. That's what they do.
************************************************************************
To read more, click here to SUBSCRIBE