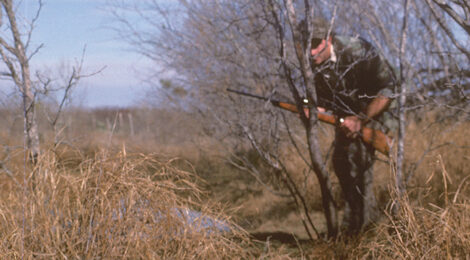 Feral swine are here to stay and represent a way to reducing hunting pressure on bucks game managers try to protect.
Story and photography by Bob Zaiglin
Cruising the low-lying brush country from a top-drive vehicle is an exhilarating way to see a lot of country and a large number of deer. That is just what my hunting companion David Shashy and I did one cold mid-December morning on an expansive Dimmit County ranch. But as temperatures started to plummet and deer movement declined, we opted to check out a huge pear flat where wild hogs were known to hang out, and take a few of the marauders — as popping a pig or two on a deer hunt is considered a nice bonus.
Hogs may initially appear unintelligent, but they are no slouches when it comes to slinking back into the sea of brush whenever a vehicle is heard. This escape response is magnified each time they are shot at from a vehicle and other than a coyote, nothing will bring a sportsmen's vehicle to a halt faster than the opportunity to pummel a pig.
Arriving at the intersection of a sendero inundated by low-growing regrowth, I pulled over.  From there we stealthily maneuvered towards an expansive pear flat where I was hoping we would find pigs rooting in the buffalo grass-laden clay soil.
************************************************************************
To read more, click here to SUBSCRIBE