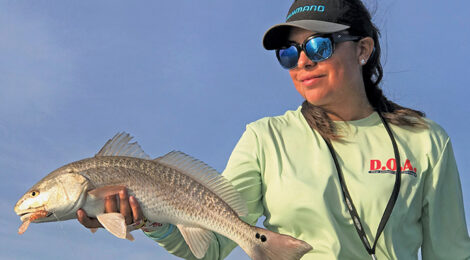 Follow the birds to the gamefish fish located both inshore and offshore.
Story and photography by Robert Sloan
One of the best things about May is that the Gulf of Mexico and all the bays up and down the Texas coast have warmed and the fishing is wide open for trout, reds, flounder, tarpon, king mackerel plus even tuna and marlin. It's all good and one sure fire way to tap into the action is to follow the birds to the fish.
Last summer about this time we were hammering the trout in the surf along Matagorda Island. In fact, it was some of the best surf fishing in many years. Shrimp, mullet and shad were plentiful and both the gulls and the trout were on top of the action. Matagorda Island offers several miles of some of the best surf fishing along the Gulf coast. Not only can you catch trout in the first and second guts, but there are also reds, Spanish mackerel and tarpon.
There are two types of birds that make a living in the surf. They are sea gulls and pelicans. Both are excellent at locating baitfish that trout and reds will be feeding on. On one particular morning I was out in the Matagorda surf with a couple of friends and there was nothing going on. The surf was clean and green to the beach. I picked up my trusty pair of Steiner binoculars and spotted a small group of gulls feeding over what had to be trout. They were just about out of sight down the beach and we headed that way in a hurry. When we got there my first cast with a four inch D.O.A. pearl/fire tail shad was smacked with a solid thump that turned out to be about a four pound speck. Within about 15 minutes we just about had a limit of trout on ice.  The thing about fishing the surf is that you have to move with the birds on most days. When the gulls are hovering and picking shrimp off the surface of the water it's a sure thing that trout are somewhere nearby.
************************************************************************
To read more, click here to SUBSCRIBE