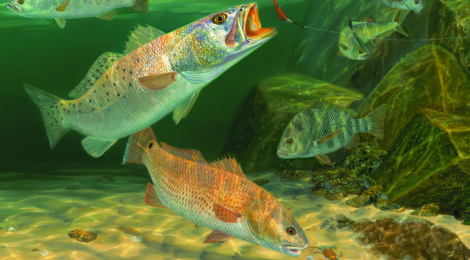 Most coastal anglers know that in April the jetties along the Texas coast serve as gateways from the Gulf of Mexico to the vast bay systems located behind a string of barrier islands. Popular wildlife and sporting artist Randy McGovern has painted a scene that details a few of those options in his "Jetty Junkies."
One might question is it the variety of fish that congregate at these granite outcroppings that are the junkies, or is the plethora of anglers that know this is a top place to catch a variety if fish, in a number of different ways. Actually there is more to this occurrence than just the granite blocks, the fish, and anglers — it is also the abundance of bait that makes it way into the bays each spring that triggers may fish species runs.
For more information on "Jetty Junkies" and other works of art by Randy McGovern, visit www.mcgovernwildlife.com, or call (770) 424-0450.