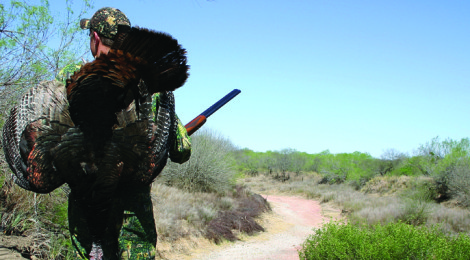 A springtime adventure of spending special times afield with special people.
Story and photography by Bob Zaiglin
Spring mornings for a turkey hunter begin with the rhythmic tone of a cell phone interrupting their deep sleep at an ungodly early morning hour. After a couple cups of coffee and a honey bun jammed full of carbs, they grab a shotgun and head outside to the pickup.
Blinded by the predawn darkness the cab light of the truck facilitates the loading of the arsenal of tools employed in turkey hunting. Once all the gear is carefully stowed on the back seat, they head out to a traditional turkey roost that has proven productive in the past. After negotiating a semi-vegetated sendero for several miles the vehicle is parked approximately 300 yards from an island of live oaks situated at the top of a hedged flat. It is there a flock of turkeys gravitate to the tree tops nightly.
In the darkness the hunters negotiate their way to a place found only because of the many times it has been visited on previous spring forays. The snort of alarmed deer is the only thing heard while making their way stealthily towards a small clump of mesquite trees encircled by agarito, capable of concealing their movements while attempting to call in an old long beard.
Once situated like chicks nestled in the middle of a nest, that favorite box and slate call are removed from the vest and carefully placed on the ground in preparation of the morning's calling session.
While darkness lingers a match is struck to darken the tip of a favorite striker just to have something to do. As the ambiguous figures of predawn take shape, the area erupts into a cacophony of orchestrated bird songs. At first it's the drip-drip call note of the ground-dwelling curved bill thrasher followed by the distinct four-noted call of a loquacious mockingbird perched high in the tallest tree and the ubiquitous chirping call of the blood red cardinal.
A sudden gust of wind interrupts the relaxed turkeys roosting nearby. The sound of flapping wings scraping against the limbs is heard as the bird regain their balance on the lofty branches. This subtle early activity generates a spike in adrenalin of the hunters.