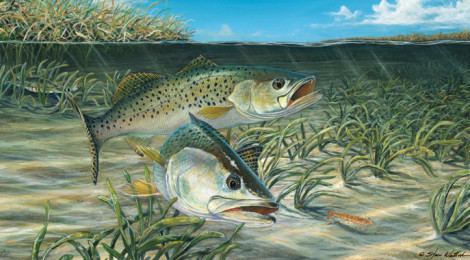 Even the title of this month's cover art, "Shallow Water Specks: Spotted Sea Trout by Florida artist Steve Whitlock will raise the excitement level of any coastal angler. Speckled trout cruising shallow grass flats and shorelines the spring spawn unfolds is what many anglers wait all year to pursue. Anglers know they have been in the right place to catch these free-spawners not only by what is on their stringer or been released, but also by the trout eggs clinging to their wade booties and leggings when they come out of the water.
Whitlock and this paintings are no stranger to Texas' saltwater fishing scene. This piece was the 2015 Coastal Conservation Association's Dinner Print Series and the 24" x 36" was available exclusively at 60 fundraisers last year. He has painted a companion piece of a couple of redfish with a bit of a fall theme entitled "Up the Creek: Redfish and Redhead Ducks," that will be exclusively available in the 24" x 36" size at CCA Dinners for 2016.
For more information on "Shallow Water Specks: Spotted Sea Trout" in other available sizes as well as his chart art or other fine works of art by Steve Whitlock please visit www.stevewhitlock.com, call (941) 359-8106 or email info@stevewhitlock.com.