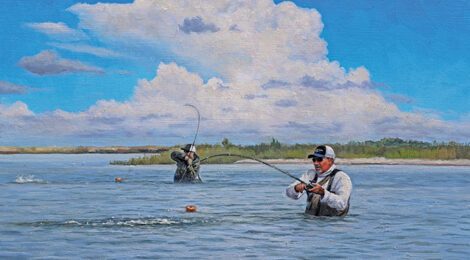 By the time April arrives impressions of the impact the winter freeze in February had remain but will have started to fade. It's funny how warmer weather and the first full month of spring can change one's attitude.
Popular Texas sporting, wildlife and western artist Calvin Carter captures two coastal anglers wading a shallow shoreline in his painting, "Feel Like A Keeper." The fact they are in a little deeper and casting even deeper may depict what is to come late in April and beyond. Coastal waters are going to warm, fish are going to eat and spawn assuring the cycle of life continues.
Many will fish this month with a sense of uncertainty. However, a good 'thump' and line being pulled from a drag-set reel encourages optimism. Just being on or around the water provides the tranquility so many head to Texas coastal bays. It's the reason we fish hoping to catch a keeper or maybe something even bigger.
For more information on "Feels Like A Keeper" and other fine works of art or commissions by Calvin Carter, visit www.calvincarterart.com, email mcalvincarter@yahoo.com or call (409) 201-6685.  — Bill L. Olson.
************************************************************************
To read more, click here to SUBSCRIBE