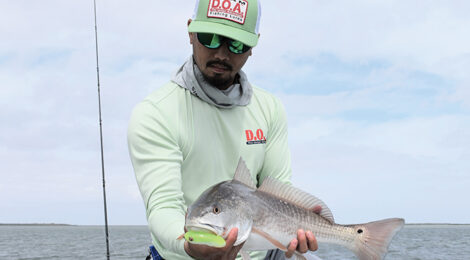 Scratching the surface or just below targets April's shallow water trout and reds.
Story and photography by Robert Sloan
About three decades ago on a warm spring day Rudy Grigar and I were wading in trout green water that was thigh deep on one of the Chandeleur Islands. We had only been fishing for about an hour and he had racked up an impressive stringer of trout. The fishing was great and the speckled trout were on an aggressive bite. They were laying into Grigar's silver spoon that was being worked about two feet deep under a plastic bubble shaped like a RatLTrap.
I never knew what to expect from Grigar, well known along the Texas coast for decades, and best known as the "Plugger." He fished his way along the Texas coast from Galveston to Port O'Connor and later moved his operation to the Chandeleur Islands. To this day he is considered to be one of the very best at catching trout and reds on artificial lures.
"What is that contraption you're throwing," I asked.
"Something new I just put together," he replied. "This plastic bubble floats and has a rattle in it. It's a lot different than a popping cork. It's kind of got a slight swoosh when I give it a light pop with the rod tip. It also brings the 1/4 ounce silver spoon up to the surface, then lets it fall. About 100 percent of the time trout will hit it on the fall, thinking that it's a wounded baitfish. I think it's going to be a big hit here and along the Texas coast."
To make a long story short that lure never went into production, and the one I managed to sneak away with was deadly on trout and reds on East Galveston Bay. And definitely a smash hit on grassy flats at places like Pringle and Contee lakes south of Port O'Connor.
April and May are like transition months along the Texas coast. Trout are feeding on small mullet, shad, croakers and pinfish. They are coming out of their late winter slumber, thanks to warming tides. The key to catching trout right now is to use a mullet or shad imitation lure in about three to five feet of water.
************************************************************************
To read more, click here to SUBSCRIBE