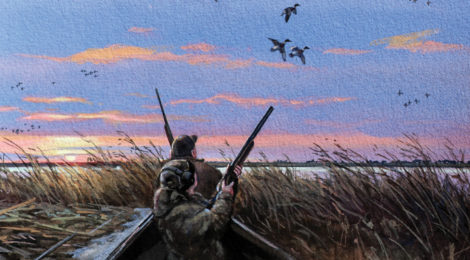 Popular Texas wildlife and sporting art artist Calvin Carter has capture a holiday hunting scene in a watercolor entitled "Me and Dad."  Countless numbers of children have been introduced to the special time shared during the Christmas and New Year's holidays of hunting with Dad.
One of the most intriguing holiday hunts is for ducks along coastal marsh areas.  Setting out decoys in the dark, huddling in the blind awaiting sunrise and certainly flights of ducks being drawn close for a shot.  Add in the sounds of calling, retrieving downed birds and the stories after the hunt make for memories that last a lifetime.
Carter has included in this painting a set of earmuffs to protect the young hunter's ears.  Safety first is the only way to introduce a new hunter.  Many times the mentors forsake their own hunting to assure the young shooter handles the firearm safely when the excitement increases.
For more information on "Me and Dad or other fine works of art by Calvin Carter visit www.calvincarterart.com, call (409) 201-6685 or email at mcalvincarter@yahoo.com.