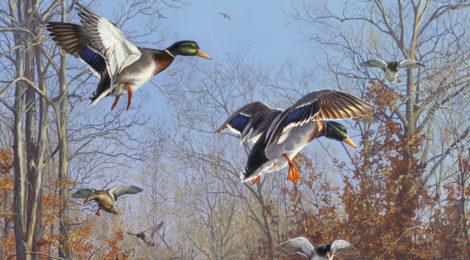 Special times await Texas waterfowl hunters that set up in and around flooded timber this time of year. At first light the first sound is the whoosh of wood ducks zipping through the flooded hardwoods. As the light increase the big ducks — mallards, make their way into these areas too feed and roost.
Renowned wildlife artist Scott Storm's "Green Timber Mallards" has capture one of those crisp winter mornings as a flight of greenheads start to settle down onto the flooded waters. One of the coveted trophies for duck hunters, mallard numbers remain very good at 34 percent above the long term average.
For more information on "Green Timber Mallards" and other fine works of art by Scott Storm, contact Wild Wings at (800) 445-4833 or visit www.wildwings.com.