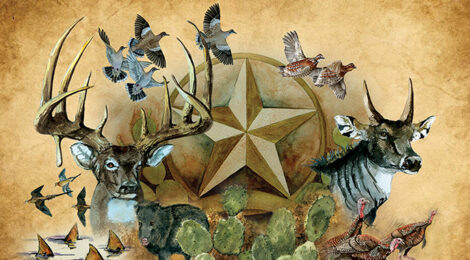 "It's Better In Texas"
One of the biggest challenges each year is finding a painting for Texas Outdoors Journal's January cover that encompasses all of the outdoor opportunities available to start the New Year.  Certainly paintings of some individual opportunity have been featured, but nothing that provides a mosaic of the wide variety of pursuits.
Popular wildlife and sporting artist Don Breeden who is based in South Texas has changed that perception with his "It's Better In Texas."  Some might take the title as Texas brag, but the reality is it's Fact.
In January whitetail deer seasons wind down and close throughout the month.  Many big game hunters shift their attention to other game to hunt including nilgai.  There is even a 365 day, year round season in South Texas for javelina that opens each September 1 and closes August 31 the following year.
Bird hunters have almost unlimited options that include an often-overlooked late dove season.  Upland bird hunters will pursue bobwhite quail and fall hunting opportunities for Rio Grande turkey.
Knowledgeable outdoorsmen and women also know in Texas we cannot only hunt, but also fish throughout the year.  Along the coast, even in the winter month of January, this includes the pursuit of the more cold-tolerant and scrappy redfish.
If the eclectic composition of "It's Better In Texas" didn't specifically identify the location of this grander, in the middle of the painting the five-point Lone Star certainly does.  This is the Lone Star State and we are so richly blessed with an abundance of wild game animals to conserve, manage and enjoy.
For more information on a printed limited edition giclee of "It's Better In Texas," other fine works of art or commissions by Don Breeden, visit www.donbreedenart.com, email donbreedenart@gmail.com, or call (956) 459-3140. — Bill L. Olson