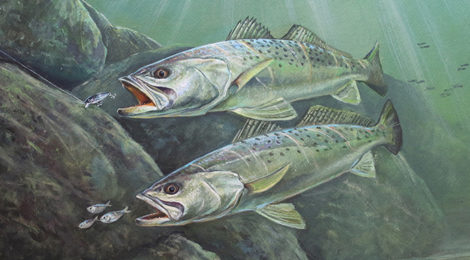 From Sabine Pass to South Padre Island granite outcroppings maintain access to and from the Gulf of Mexico. This exchange of water if critical as the more stable Gulf of Mexico mixes with water in various estuaries along the Texas coast.
Besides maintaining navigable connections Texas jetties also provide structure from a variety of bait and gamefish to relate. This provides a smorgasbord of angling opportunities.
Popular Texas artist Calvin Carter provides an underwater view of speckled trout chasing menhaden and an artificial lure in his watercolor entitled "On The Rocks." Carter depicts how vital these rocky structures are to helping maintain the health of Texas estuaries and commerce corridors.
For more information on "On The Rocks," plus other fine works of art or commissions by Calvin Carter, visit www.calvincarterart.com, email mcalvincarter@yahoo.com or call (409) 201-6685.