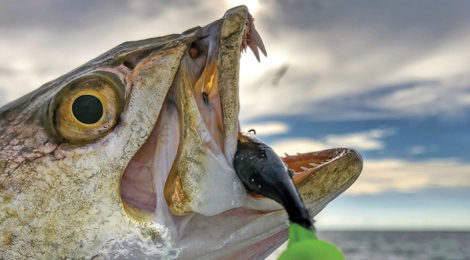 Regardless of location, structure or time of day, summer offers plenty of options for speckled trout.
Story and Photography by Danno Wise
There is something magical about summer fishing along the Texas Gulf Coast. Nothing symbolizes summer inshore angling in the Lone Star State like fishing for speckled trout. During the summer months, there is no shortage of ways to target these popular gamefish in Texas coastal waters.
If there is one thing that is synonymous with summer on the Texas coast, it is heat. While a certain amount of warmth is good, fish, like people, are more active in more moderate temperatures. As a result, some of the best fishing found along the coast from June through September is during the early morning hours. So this is definitely the time of year when anglers need to set their alarm clocks, as the sunrise, or even pre-sunrise, bite is often the best of the day.
During the early morning hours trout of all sizes can be found patrolling the shallow flats. One of the best ways to target specks during this time of day is with a surface bait. Walk-the-dog topwater plugs and lipped divers waked just below the surface are extremely effective on calm summer mornings. Soft-plastics such as the DOA Airhead rigged weightless and weedless can be retrieved to pitter-patter across the surface, often drawing explosive strikes. It is not unusual at all to catch trophy trout on the flats during the dawn hours.
Once the sun is up high, the majority of trout will begin moving into progressively deeper water as the water continues to warm throughout the day. Anglers on active fish on the flats can generally follow them as they move into deeper water. Switching from surface plugs to soft-plastics or live bait is usually advised at this time.